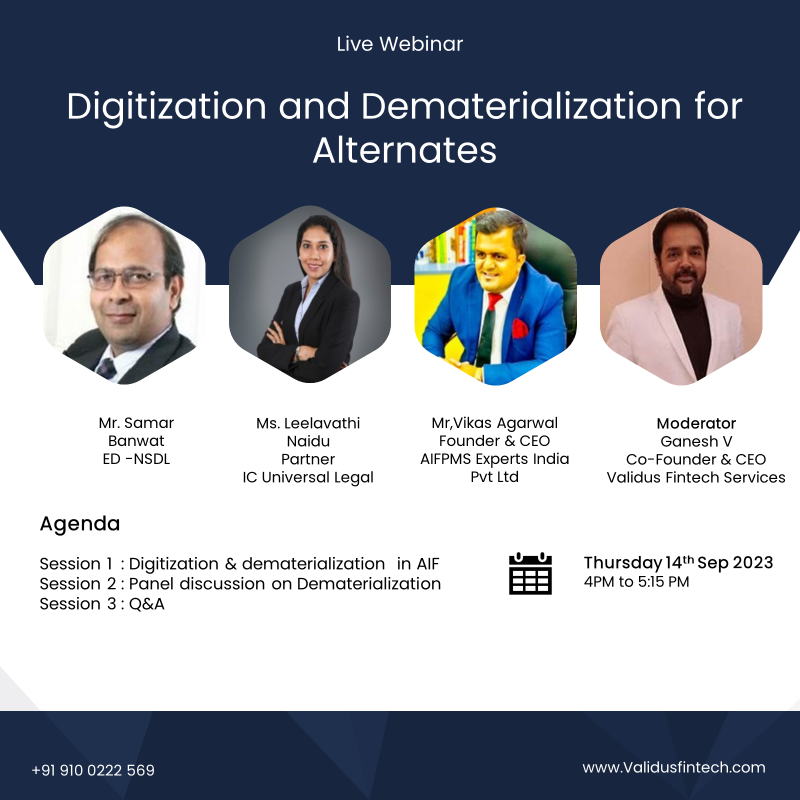 Inviting you all to attend a crucial webinar addressing several questions and facilitating solutions for compulsory Dmat and more
What's Changing – Urgent Deadline: By October 31, 2023, AIFs with corpus ≥ Rs 500 crore must have units dematerialized and the rest by April 30, 2024. Act now, or risk non-compliance
The Challenge Ahead: This isn't a checkbox task; it's a monumental transformation in the AIF industry. Our meticulous transition ensures a seamless experience for LPs and elite investors, but questions linger in this groundbreaking shift.
The Solution: Get ready for a transformation! Join NSDL and Validus Fintech experts as they unveil the dematerialization process and cutting-edge solutions to streamline dmat of AIF holdings.
Q&A: Our interactive Q&A session leaves no stone unturned. We'll address every aspect of dematerialization, tackling your doubts head-on.
Why Should You Attend?
This isn't just an opportunity; it's a necessity for all professionals managing AIFs
Who Should Attend?
AIF Fund Managers
Compliance Officers
Operations Maestros
Other AIF Stakeholders
Secure your seat now. The future is dematerialized, and it's calling!
Date: Thursday, 14th Sept 2023 🕒 Time: 4 PM to 5.15 PM📍 Venue: Webinar
For inquiries, contact +91 910 0222 569
See you there!